Mardi Himal Trekking: Easy and Short Trek
Mardi Himal is at 5587m peak beneath the much more prominent to Machapuchre in the Annapurna range. Mardi Himal is the most southerly peaked Himal of the Annapurna region. It is the lowest and least climbed peaks. The first ascent of Mardi was in 1961. The first root was via the east flank. It separates the southwest ridge of Machapuchre as a separate mass. It is best seen from the south. Mardi Himal trekking was opened in 2012. It is a stunningly beautiful trek, taking you up through ancient greenery forests, to what feels like the face of the mountains themselves. As you get up close and personal with Annapurna South, Hiunchuli, Machhapuchhere, Ganga Purna, and Mardi Himal.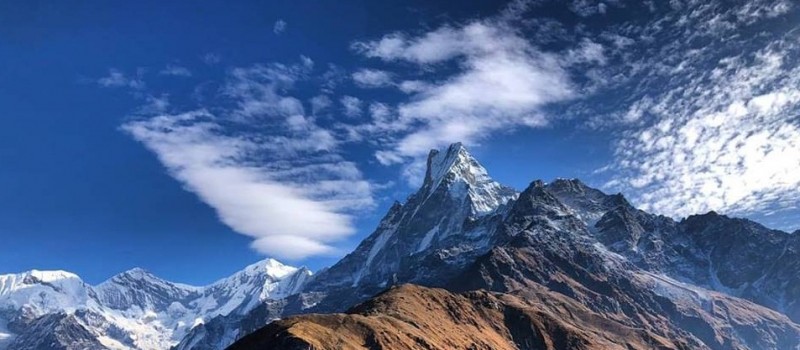 Mardi Himal Trekking Short Route
Pokhara to Kande ( 1,770 meters), Kande to Deurali (2031 meters), Deurali to Low Camp (2970 meters), Low Camp to High Camp(3580 meters), High Camp to Mardi Himal Base Camp (4500 meters), Base Camp to Sidding and Finally returning to Pokhara from Sidding.
The attraction of Mardi Himal
Mardi Himal is highly diverse with cultural insight, beautiful forest walks of rhododendron and magnolia, and alpine landscape. The major attractions during trek remain the Forest Camp, High Camp, Mardi Himal View Point, Badal Danda (Cloud Hill), traditional village – Sidding. Similarly, other attractions are oak, suspension bridge, wooden bridge, terrace field, cascades, and river. As the trekking trail mostly stays along the ridge, the altitude gain becomes more gradual. It is a relatively easy short and unspoiled trek in the Annapurna region.
Duration and Cost
If someone really wants to have a magnificent and beautiful view of the mountain from a very near distance but has a limited budget and time. Then Mardi Himal trek could be the best as it is one of the short treks in Nepal. It takes just 6 days from Pokhara. The cost may vary from different travel agencies.
The best Season to Trek
The best season for a trek to Mardi Himal is March to May and October to December month. In this time, the view of the Himalayas and the Mountains is very clear and it is really mesmerizing.
Difficulties for Trekking
The difficulty level of Mardi Himal Trekking is moderate but it is adventurous. The walking and trekking distances are short and easy but you will gain altitude. Only day hike time from High camp to Mardi Himal base camp makes it difficult. Similarly, there are narrow paths, steep climb, long day and altitude of 4,500 m.
Accommodation on The Route
Accommodation on the Mardi Himal Trekking route is a little bit more expensive in comparison to other more popular trekking routes like Poon Hill. Trekkers can stay in a guest house or camp there is a couple of campsite at lower altitudes. The guest houses are quite standard; a simple room with beds, outside toilet and shower, and dining area.
Food on Mardi Himal Trekking Route
The food you usually get during hiking in Nepal is Nepalese, Indian, Chinese and 'western food. Local daal bhat ( rice, lentil soup, chapati, spinach, and grilled vegetable) is the best and very cost-effective. But the menu on the menu on the route is quite diverse.
The Trekking to Mardi Himal is one of the short but adventurous treks in Nepal. It is best for both long route trekkers as well as short even in the case of limited budget and time.